DarenthMJS Roma
Bean to Cup Vending Machine, Leeds
An expertly engineered, table-top, Bean to Cup machine that combines proven technology with rugged dependability, designed for the most demanding installations in Leeds, West Yorkshire.
DarenthMJS Roma – Bean to cup coffee vending machine
The Roma's 'true' espresso, high pressure brewing system boasts a fully adjustable grinder to produce the perfect espresso time after time from your choice of beans.
The standard push button strength adjuster allows each cup to be brewed to your individual taste.
By using professional quality granulated milk and hot chocolate ingredients, a single Roma machine can produce a wide range of coffee shop quality drinks at the touch of a button, perfect for any business in Leeds, West Yorkshire.
Traditionally supplied in 'Classic Black' the Roma is now also available in 'Rich Copper', 'Smooth Chrome' and 'Mellow Gold' finishes.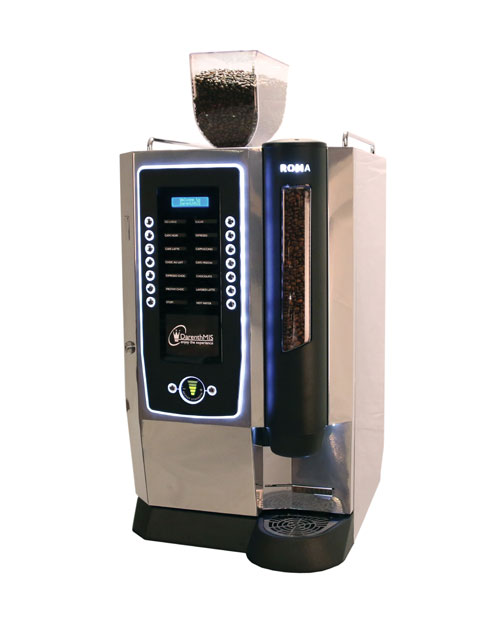 Vending Machine key features
---
Sophisticated 'true' espresso brewing system comprising of adjustable precision conical grinder, volumetric ground coffee dosing unit, twin water boilers and high pressure closed loop water dosing control

Push button espresso strength adjuster

High speed, precision balanced 'whipper' units

Choice of single shot ground coffee dosing weight in 6.5g - 8.5g and 10.0g - 14.0g

Drink size from 7oz to 16oz

Either 2 or 3 canisters for milk, sugar, chocolate, instant or decaf

Easy to remove, easy to clean internal parts

14 individually configurable 'one touch' product selection keys

Sophisticated, solid state LED lighting: Back lit chrome effect selection buttons, back lit face plate (illuminated cup station and 'ROMA' decal) and adjustable brightness and 'attract' modes

Choice of lighting colour

Strong metal cabinet, with black and stainless steel detailing, finished in either: Classic Black, Rich Copper, Smooth Chrome and Mellow Gold

Copy of Choice of lighting colour
For further information about the DarenthMJS Roma coffee vending machine, or any of our products and services, please call us on

0800 772 0448

or…
Contact us