CMS Voce vending machine available to rent or buy in Leeds
Instant, Freshbrew, Roast & Ground and Bean to Cup Range. Crane Merchandising Systems proudly introduces VOCE, our new freestanding range of hot drink machines available to rent or buy from West Yorkshire Vending Solutions, Leeds
CMS Voce – free standing vending machine
The VOCE is sure to increase sales by attracting users in Leeds, West Yorkshire, to a fantastic looking machine and providing exceptional beverage quality, ensuring unmatched customer satisfaction with every purchase.
The Voce range provides a truly versatile drinks vending solution for all environments where a high quality beverage needs to be served quickly and efficiently. The machines offer a full range of instant, freshbrew, roast & ground and bean to cup (B2C) drinks, plus the option of still and carbonated cold drinks. The VOCE ranges supports cup sizes of 7oz and 9oz, or why not bring the coffee shop experience to your business or workplace with our 12oz 'Enjoy More' cup size
VOCE machines are also environmentally friendly, and are manufactured where possible from recyclable materials. VOCE incorporates energy saving software, which can be programmed to reduce energy consumptions during periods of inactivity.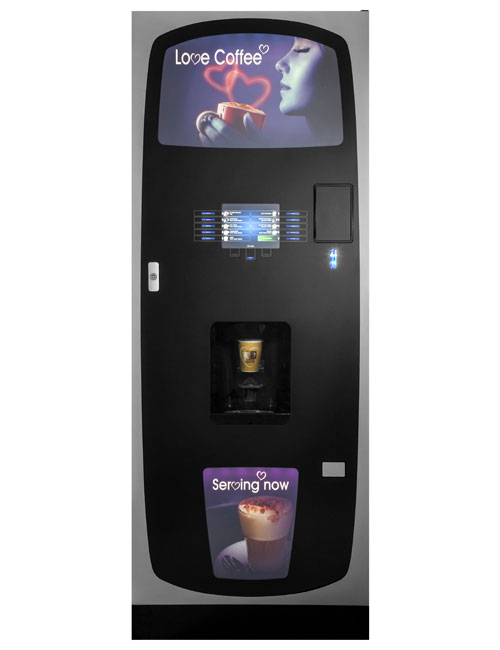 Vending machine key features
---
Modern, stylish design – a flat glass door provides the highest quality look and feel

Consumer friendly interface, a choice of numeric or build-a-drink keypad to suit the location

Oltre brewer provides consistently high quality tea and coffee beverages

Available with 7oz, 9oz or 12oz cups, up to 800 cup capacity with the Crane cup drop unit

Surevend™ guaranteed cup delivery system fitted as standard

Power save mode reduces energy consumption but keeps the machine "vend ready"

Operator friendly – easy to clean and service

Common components and simple machine programming

LED lighting fitted as standard

Energy saving software significantly reduces energy consumption

Where possible made from recyclable materials

VOCE is also available CarbonNeutral, providing the opportunity to offset the carbon emissions of the machine for a 5 year period
For further information about the CMS Voce vending machine, or any of our products and services, please call us on

0800 772 0448

or…
Contact us